Not Yet Reviewed
Supporter: Ram Sabarish (Diagnostics Competence Center)
This module gives extra insight in the Quality Manager and Design Manager but in the end the combination is very interesting.
Design Manager structures your process of designing new plans to as build. Design Manager follows strict the process in getting a Design to As Build. Many steps are supported by the Quality Manager to get the designs is a stage it follows all mandatory rules.
Design Manager
This module gives insight in the open projects, the duration of the projects and the time a project is in a certain stage. Below you see a screenshot of a overview over the kinds of projects the customer had defined.

The next screenshot provides some timing details about the opening and use of the designs itself.

The next dashboard gives you insight in the types of projects you use in your design manager implementation that generate failures. Due to the low number of types the dashboard shows less information, but in your particular situation it can be helpful to find out issues in your configuration and user behavior.

Quality Manager
You can organize your Quality Rules in groups. With this module you can get insight in the number of times these group of rules are fired. You can in this way investigate if your Quality is checked enough by the users.


To monitor the usability of your rules you can use the following dashboards that shows the most time consuming rules.


To see the impact of the rules on the quality of your data, you can use the dashboard below. If your important assets are not protected by quality rules you definitely need to improve your quality rules to get a better coverage!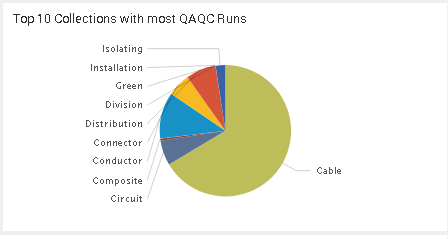 Quality Manager in combination with Design Manager
The combination of QM and DM give you the opportunity to monitor your design process quality. In the end the quality of the added designs and as build works is the most important for your business.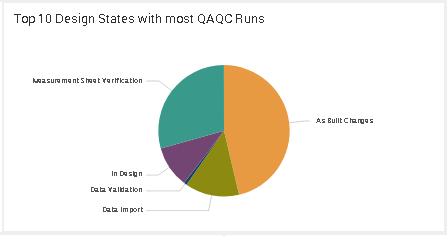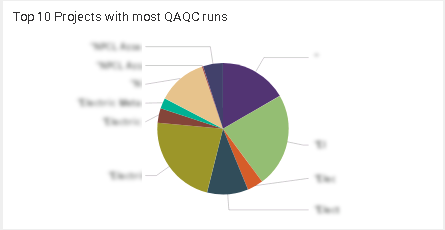 If you detect QM is used wrong or Rules need to be added you can gain value on your data by changing rules or business processes.